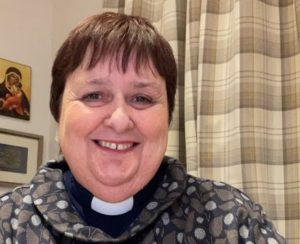 The Reverend Irene Cowell
Livestream of the Announcement from St George's Church, Douglas
Her Majesty the Queen, Lord of Mann has signified Her approval for the appointment of The Reverend Irene Christine Cowell, Incumbent of the Parish of Arbory and Castletown in the Diocese of Sodor and Man, and Diocesan Director of Continuing Ministerial Education, as Archdeacon of the Isle of Man.  Her appointment will take effect from the date she is sworn in.
At the same time the Bishop of Sodor and Man has appointed The Revd Mrs Cowell as Priest-in-Charge (to become Incumbent) of the Parish of St George and All Saints, Douglas.  In the post of Archdeacon she will have responsibility for Church of England parishes across the Diocese, succeeding The Venerable Andie Brown who retired in September 2021 after ten years in post.
On the announcement of the appointment, The Right Reverend Peter Eagles, Bishop of Sodor and Man, said:
'I am indeed thrilled that The Rev'd Irene Cowell has accepted the post of Archdeacon of Man and Priest-in-Charge (to become Incumbent Team Rector following pastoral reorganisation) of the Parish of St George and All Saints, Douglas.  In taking this next step in her life of Christian ministry, Irene brings proven pastoral gifts and wide professional and personal experience to the role.  I am grateful to her that she is willing to serve God in this new capacity, and I look forward immensely to working with her.  I offer my condolences to the people of Arbory and Castletown, where Irene has exercised such a wonderful ministry for the past four years, but I hope Irene's people will be both pleased and indeed proud that they have played a part in preparing her for this greater responsibility.  And Irene won't be far away!  I look forward to identifying a new priest for Arbory and Castletown as soon as possible after Irene's move, which I envisage taking place in later spring, with a date for starting in role to be identified in due course.
Please join me in praying for Revd Irene as she prepares to take on this new ministry, and for Irene and Tom as they undertake farewells and new beginnings.'
The Reverend Irene Cowell was born and educated in Liverpool. She trained as a nurse at Alder Hey and Broadgreen hospitals and after qualifying went on to manage an acute surgical ward for 12 years. Answering God's call which she first sensed in her teens, she left nursing to train for ordination at Ridley Hall, Cambridge. Returning to the Diocese of Liverpool she was ordained Deacon in 1994 and Priest in 1995, amongst one of the first women to be ordained priest in the Church of England.
Irene served her curacy at St Philip's, Litherland from 1998 – 2011 then as Rector of St Helen, Sefton and St Frideswyde, Thornton, bringing two uniquely diverse parishes together into a single benefice, and leading the parish through a significant period of change. In 2002 Irene was appointed Diocesan Director of Continual Ministerial Education encouraging, training and mentoring clergy for ministry and mission. In 2005 she became Co-ordinator of Leadership and Management Training using her experience to enable and support clergy and congregations through times of transition, conflict and change.
In 2011 Irene was appointed Vicar of Emmanuel, Southport a large suburban parish with a thriving ministry to families and children. In 2018 she moved to the Isle of Man and was appointed Vicar of Arbory and Castletown and Diocesan Director of Continuing Ministerial Development, supporting clergy in their ministerial formation, implementing ministerial review and promoting clergy wellbeing. She serves on a number of diocesan committees.
Irene has a passion for mission and exploring fresh expressions and pioneering new ways of being Church and making the Gospel relevant for all people of all ages. She has experience of working ecumenically and believes more can be achieved when churches work in partnership.
Irene's wider community involvement has included voluntary work with the Probation and Prison Service and for 15 years as Chair of trustees for one of the largest counselling services on Merseyside forging partnerships with the NHS and Local Education Authority. She has been involved in several other community projects and charities on Merseyside and is especially interested in ecclesiastical law,  culture, heritage, art, tourism and rural issues.
Irene is married to Tom, a former civil servant who was born and brought up in Douglas and can trace his Manx roots back to the 1600's.  Irene is a keen photographer and amateur genealogist, she enjoys opera, reading and following F1 Racing. When time allows she likes to visit her favourite places Rome, Florence and the Southern States of the USA, where she has made many friends.