The news of the death of The Reverend Canon Theophilus Kikoso has come from Uganda. Canon Theo or Theo as he was known by his closest friends first came to the Island in 1993 along with Bishop Nathan Mwombi and their respective wives. They enjoyed good Manx hospitality and as friendships grew a link was eventually established between the Diocese of Sodor and Man and the newly formed Diocese of North Mbale, Church of Uganda.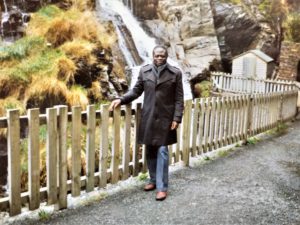 Canon Theo will be remembered well by many on the Island and particularly by those who to whom he offered hospitality to  in his meagre home in Buyobo village in the foothills of Mount Elgon. The Reverend Canon Malcolm Convery who stayed there on a number of occasions with his wife Valerie said, 'Theo was a very dear Christian friend, a gentleman with a very big heart for his community and his people. His company was always enjoyable and he was always full of creative ideas as to how to help and support people who will no doubt receive his reward in heaven.' 
The Reverend Canon John Coldwell who stayed with Theo on a number of occasions in Uganda commented, 'I am both both deeply saddened to hear of the loss of Theo and overjoyed that he can rightly take his place in heaven. He was one of the humblest, kindest men I ever met. His encouragement and wisdom in our many conversations will always remain.'
Canon Theo survived the atrocities of the Amin regime in Uganda and reached the age of 85 dying in Mbale on 24 September 2022. Sadly, his health had been in decline for the past couple of years.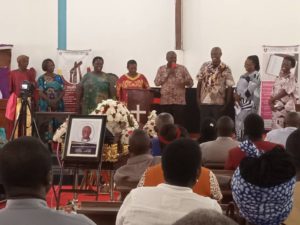 A joyous celebration of Theo's life and wonderful ministry was celebrated in St Andrew's Cathedral, Mbale on 29 September and again on the 1 October in his home church of Buyobo on the top of the hill and then he was buried (in line with Ugandan tradition) at his home.