International Christian maritime charity Sailors' Society is launching its 2022 Christmas Appeal as it sees a marked increase in the number of seafarers reaching out online.
The leading charity for the welfare and wellbeing of seafarers and their families worldwide is asking that you spare a thought for the hundreds of thousands of seafarers who will be missing their Christmas to bring you yours.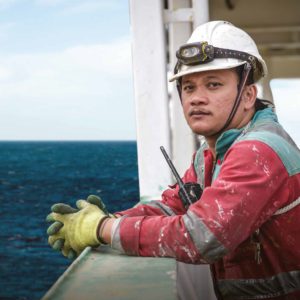 Sara Baade, Sailors' Society CEO, said: "Your support could be a lifeline to a parent craving contact with their child on Christmas Day or someone in crisis and desperate for help.
"More than 90 per cent of the goods we buy and use come to us by sea, that includes almost all of the Christmas presents we will give and receive in the coming weeks. But for seafarers, that means spending the festive season far away from their children, their partners, their parents and their friends.
"I know this Christmas will be tough financially for many, but it will be tough emotionally for our seafarers. Anything you can give will help us to support them with anything from calls home to a counselling session for a seafarer in crisis.
Sailors' Society, which reaches out to almost 200,000 seafarers, of all faiths and none, every year across the world, is funded entirely by donations.
A free 24/7 helpline run by the charity ensures anyone who needs someone to talk to in times of need is never alone and the Society's Crisis Response Network supported almost 1,000 seafarers last year – nearly 20 every week. But, as the festive season approaches and the war in Ukraine and the financial crisis deepens globally, more seafarers have been in touch.
This Christmas, Sailors' Society is offering three ways to help. You can donate by post or online, you can buy a virtual gift and you can send a personal message of support for seafarers. To find out more go to: Sailors Society Christmas Appeal