The Archbishop of York the Very Reverend Stephen Cottrell has begun his first visit to the Isle of Man and to the diocese. The first port of call has been to Housing Matters Isle of Man where he met some of the staff and learnt about the provision that charity makes for those people who need their services.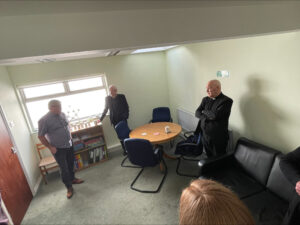 The Archbishop learnt that Housing Matters provides advice, guidance and support to local families and individuals in housing crisis through working with local landlords. The aim being to find suitable and appropriate accommodation and support applications for social housing.
Further information on the work of Housing Matters can be found on their website here.