Dear Friends,
As Gail and I depart from the Island, this comes to thank you for our life together in Christ's Gospel and for all the blessings that we have shared.
I thank you too for the gifts presented at St John's on 28 October at the conclusion of my final celebration of the eucharist.  You gave us some beautiful cards, a most generous financial gift, a picture of our Cathedral, and a fine Manx brooch for Gail.  Michael Manning recited his specially-written poem 'Bannaghtyn': strikingly powerful verses, which were then presented to us as a framed manuscript with the calligraphy and most beautiful illustrations by Colleen Corlett.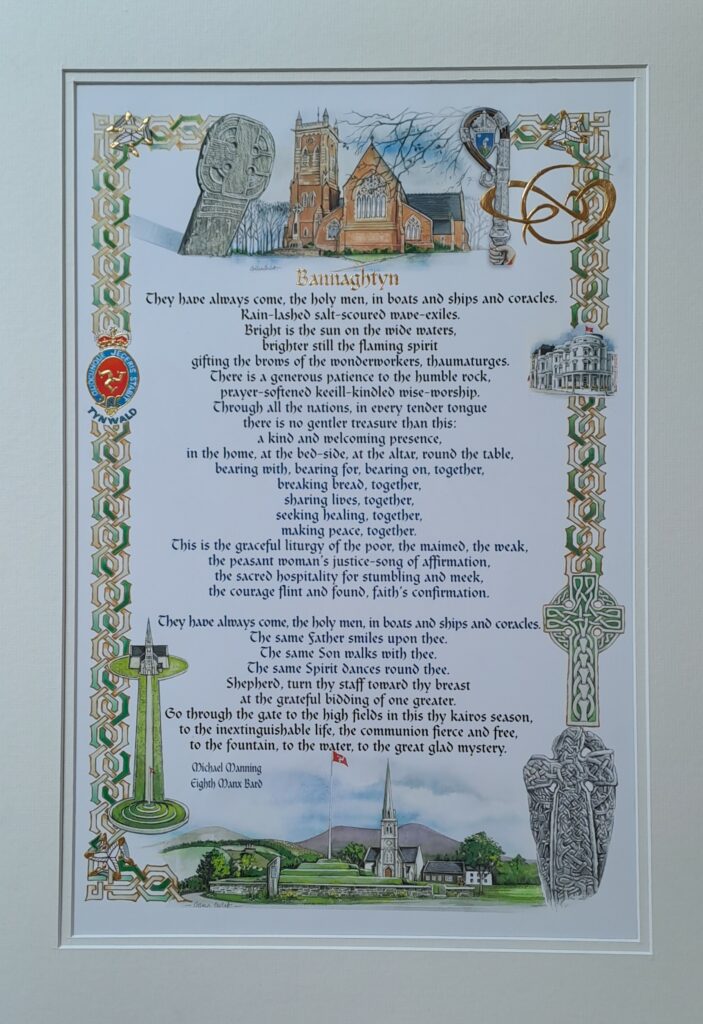 This will always be a delightful and unique reminder of our life with you on the Isle of Man.  Alongside that, I was presented with a Bishop Wilson medal.  Thank you for everything that was given and said at the service at St John's; thank you for your presence there, and as I thank particularly Dean Nigel and Archdeacon Irene and Fr Michael for planning and arranging my service of farewell, and Dr Peter Litman and the choir and musicians for the beautiful mass setting by Haydn, so I extend that gratitude to all who have walked with Gail and myself, wherever and whenever, on our continuing Christian journey here in Sodor and Man.
I leave us with the two central thoughts from my homily on 28 October.  Every ending makes possible a new beginning, just as death is necessary for resurrection and as Pentecost follows Ascension.  And for that reason, while Christian farewells are always poignant, they are not characterised by sadness, because they are of God.  We may indeed meet again in this world, but most of all we look forward to our fullest communion in the life of the world to come.  We go with God, and we stay with God, and in Him we always remain.
In Christ
+ Peter