Harvest Thanksgiving helps us to celebrate many things: the successful gathering in crops, gratitude for our food, the work of those who farm the land and the careful stewardship of creation.  It is also a time when we think of those often in want of the basic necessities of life.  This year the Sodor and Man Diocesan Harvest Appeal will support the work of USPG in Malawi.
This Harvest season, you can help make sure children in Malawi won't go to school hungry.
Year after year, the rising costs of fertilisers and the changing climate means that many families are struggling to grow enough food to eat and sell.
Going without food could have a serious impact on whether children will finish school. Just by being well-fed, they could have the chance to make the best of their education, setting them up for real success in the future.
That's why USPG's Growing Futures Harvest appeal is raising money for the life-changing 'Food Security and Livelihoods' programme run by our fantastic partners, The Anglican Council of Malawi. The goal of the programme is to improve nutrition for low resourced smallholders and vulnerable children in rural communities, which will transform their futures.
Your donations will provide training in sustainable farming skills and environmental management to local families. Smallholders can join farmers groups where they will receive the equipment and resources they need to provide fresh food for their children. Groups can also access loans and grants to support their businesses, which will open doors and create opportunities to increase the family income long-term. What's more, the programme provides the same opportunities to women as men, and many women have been able to actively contribute to the livelihoods of their families.
Thanks to kind donations from supporters like you, the 'Food Security and Nutrition' programme can continue running. Your generous donations really will transform lives. Please join the Anglican Council of Malawi in creating bright futures for vulnerable children. Donate to the Growing Futures campaign today.
Further details including downloadable service resources and how to donate can be found on the USPG website by clicking on the image below: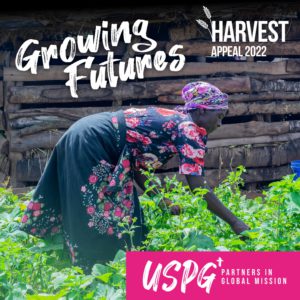 Please send your generous donations directly to USPG, but do please let the Bishop's Office know, so Bishop Peter can thank you for your efforts and  a running total can be kept across the diocese.