What was born nearly 40 years ago in Suffolk, has moved around many English counties and comes to the Island on 18th September?
Ride and Stride is a day out, giving an opportunity to visit churches on the Island, and to raise money for them.  How many churches could you visit between 10:00 and 18:00 on Saturday 18th September?  The idea is to be sponsored for the number you go to.  You can choose which church benefits from the funds you raise.
A number of Island churches have signed up so far to support those visiting. These include Agneash, Ballagarey, Cooil, Onchan, and Port St Mary Methodist Churches, Patrick, St John's, Peel (Cathedral), CofE Churches, Broadway Baptist, Onchan Elim, Living Hope (Port St Mary) and The Salvation Army.
If you'd like to raise much needed funds for any of the churches and would like to be sponsored by family and friends there is a downloadable Sponsorship Form here: Weblink 
A full list of Island Churches to be visited by region is downloadable here: Weblink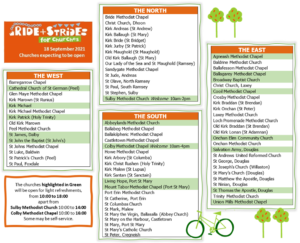 The following maps are available to support your ride or stride…
2021 Ride & Stride Whole Island A4 Map
Port St Mary Ride & Stride Map A4
Port Erin Ride & Stride Map A4
Lower Douglas Ride & Stride Map A4
Castletown Ride & Stride Map A4